Kiss On The Lips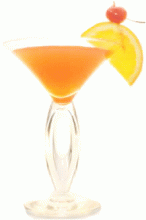 A perfect girls night or Valentines day drink, Kiss on the Lips is light fruity and not very strong. Great for when you want a drink that tastes good but doesn't pack much of a punch.
Ingredients:
1 ½ oz Peach Schnapps
5 oz Mango Juice
1 tbsp grenadine syrup
Preparation:
Combine the peach schnapps and mango juice over crushed ice. Pour the grenadine into a cocktail glass running down the sides and bottom. Add the peach schnapps and enjoy.