Journeyman Distillery
Lauren Eggert-Crowe
If you're traveling through Three Oaks, Michigan, you will see an old Corset and Buggy Whip Factory built in the 1880s. Step inside and find Journeyman Distillery, where handcrafted small batch whiskey is made every day. I spoke to Daniel Milsk about Journeyman's mission and uniqueness.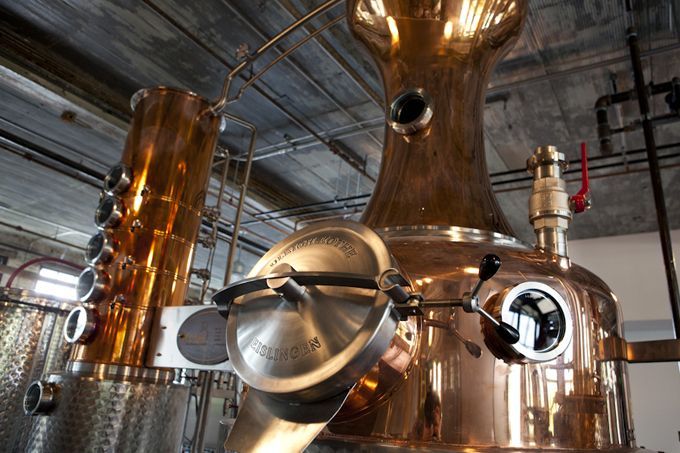 What is your role at Journeyman?
My role at Journeyman Distillery varies from day to day. One day I may be handling promotional materials, to barrel management, to bartending, to licensing. As a small company we have an "all hands on deck" mentality. If something needs to get done, whom ever is available to do it does.
What is a typical day like at Journeyman Distillery?
During the less crowded weekdays patrons can spend the time with our knowledgeable staff and learn about our products. During the weekends the distillery looks like it belongs in Chicago as a hopping bar. We offer tours on the weekends, and invite guests to learn about our process at Journeyman Distillery.
What is the process like for creating the highest quality batch of your fine spirits?
Starting from the highest quality organic grains we insure a delicious product right from the start. Our distillers practice a hands on approach while producing our spirits, resulting in a handcrafted, and delicately handled process batch by batch.
As a grain to glass distillery we start from crushing whole grains direct from the farmer, all the way through fermentation, distillation, and finally bottling and enjoying our labors. This all occurs on site in our Historic Featherbone Factory in, Three Oaks, Michigan.
What are the qualities you look for to make sure you've made a great batch?
Every batch of Journeyman Distillery spirits is monitored by our artisan distillery by taste, and experience through out every step of the process. We practice taste tests straight from the still, and also as our spirits are aging in barrels.
What sets Journeyman apart from other distilleries? What makes your products unique?
Journeyman Distillery is one of few organic and kosher distilleries operating in the United States. Currently distributing in 9 states in the union, as well as parts of Europe.
How did you learn about distilling spirits? What have you learned since starting at Journeyman?
I have learned while working at Journeyman Distillery that whiskey is not just about the alcohol. Any distillery encompasses a wide variety of skill sets including chemistry, mathematics, food production, artistry, and patience. Then, on the flip side of production comes the branding aspect, which includes promotion, customer service, sales, and of course finally enjoying the final product.
Journeyman's facility is absolutely gorgeous and full of character. It seems like design was equally important to  you as the quality of the spirits.
Having stumbled upon The Historic Featherbone Factory, Journeyman Distillery is very fortunate to be housed in Three Oaks. Originally built as a Corsets and Buggy Whip factory in 1899, we chose to leave as much history intact as possible. Leaving the untouched brick walls with peeling paint, exposed piping, original factory floors, and ceiling give the distillery an unmatched charm perfectly equated for drinking fine spirits.
Journeyman's three year anniversary is coming up this fall. Where do you see the distillery going in the future?
As we approach our 3rd anniversary we will be releasing our 2nd Batch of the Three Oaks Single Malt. Our 1st batch sold out within 1 month.
In the future we will continue to focus on small batch, high quality spirits, while releasing an evolution of our line up. Come back 10 years from now to try our 10-year Ravenswood Rye, Buggy Whip Wheat, and the entire line up. With experimental whiskeys aging look our for unusual flavors that only a true small batch distillery can make.
Want to try some of Journeyman's Spirits?