Italian Citrus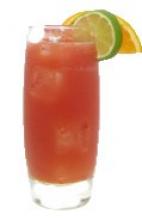 A refreshing citrus drink, the Italian Citrus gets its Italian kick from the splash of Aperol, an Italian liquor.
Ingredients:
2 1/2 oz Grapefruit Vodka
Splash of Aperol
3 oz Fresh Lemonade
1 oz of Pomegranate Juice
Splash of Grapefruit bitters
Preparation:
Combine all ingredients in a shaker and shake well.  Pour into a tall collins glass and garnish with a lime wheel and orange slice.