Italian Apple Martini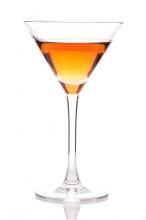 A great fall martini Italian Apple Martini is a great way to end a day and pairs well with food. One to keep everything on hand for since it is a strong favorite.
Ingredients:
3/4 oz Vodka
3/4 oz Amaretto
1 ½ oz Apple Schnapps
Splash of Cranberry Juice
Squeeze of ½ fresh lime
Preparation:
Pour all ingredients in a shaker with ice, shake till chilled, strain into a chilled cocktail glass. Add a lime wedge for garnish.