Island Swizzle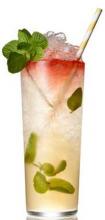 The Island Swizzle is a great around the pool drink. A step up from your regular rum based drinks the bitters and almond syrup are stepping in the direction of mixology where you play flavors against each other to make something truly unique. The mint gives this drink a clean sharp edge that melds well with the Spiced Rum. So this is for your more adventurous friends that are into something different than your normal rum punches.
Ingredients:
2 oz spiced rum
¾ oz orgeat syrup
1oz fresh lime juice
½ oz simple syrup
4 mint sprigs
2 dashes Peychaud's bitters
1 dash Angostura bitters
Preparation:
Gently muddle rum, orgeat syrup, lime juice, simple syrup, and 2 mint sprigs in a shaker glass. Cover and shake well. Pour Collins glass filled with ice. Top with bitters. Garnish with 2 mint sprigs.