Honey Gingerbread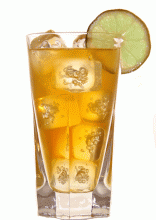 What a great drink! If you like gingerbread you will love this Honey Gingerbread. Smooth, sweet and flavorful it is a great drink to serve with food and for parties. It will go with anything! The lime cuts the sweetness a little and adds a tart after bite.
Ingredients:
2 oz Jack Daniels® Tennessee Honey
1 oz Ginger Liquor
1 oz Gingerbread Syrup
2 oz Limeade or juice of one large lime
Preparation:
In a shaker with ice add all ingredients and shake well. Strain into highball glass over ice and garnish with a lime wedge.