Holiday Coffee Cocktail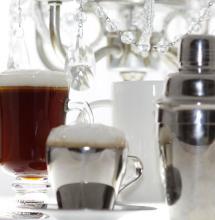 What better way to end an evening or great dinner than to have coffee by the fire.  These coffees have cognac and port and can be made with either coffee or espresso.  Topped with egg white foam and a little cinnamon they present a great close to the end of the day or holiday party.
Ingredients:
1 oz Cognac
1 oz Port
1/4 oz Simple Syrup
1 egg white
4 oz coffee or espresso
Cinnamon for dusting
Preparation:
Pour Cognac, Port and simple syrup into a coffee or espresso cup.  Beat egg white until you have a soft foam.  Add coffee or espresso top with foam and sprinkle with cinnamon if desired.