Hibiscus Margarita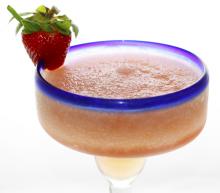 Hibiscus Margarita - The Hibiscus Margarita is a smooth slightly sweet margarita that starts off your party with a high class taste and unique point of view.  More on the mixology side it takes the basic margarita to a whole new level.
Ingredients:
2oz Tequila
1oz Hibiscus Liqueur
1 oz Orange Liqueur
2oz Onli® Hibiscus Pomegranate Strawberry
Preparation:
In a blender with ice combine all ingredients.  Blend till smooth and frozen.  Garnish with a strawberry.