Hemingway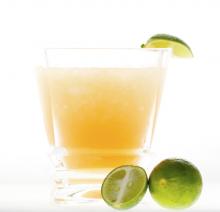 Hemingway - A great classic cocktail of Rum, Maraschino Cherry Liqueur, key lime juice and grapefruit juice, this drink is the perfect summer drink.  Time to go back to the 40's.
Ingredients:
2 oz Bacardi® White Rum
1tsp Maraschino Liqueur
1tsp Grapefruit Juice
Juice of 1 Key Lime
Crushed ice
Preparation:
In a mixing g
lass mix together all ingredients.  Pour over crushed ice in a highball glass and garnish with a lime wedge.