Hawaiian Stone Sour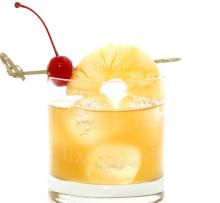 A summer drink with Blended Whiskey, the Hawaiian Stone Sour is a great cocktail for those who like their summer with a little more bite.
Ingredients:
1 1/2 oz Blended Whiskey
1 oz Simple Syrup
1 1/2 oz Pineapple Juice
Preparation:
Shake with ice.  Strain into rocks glass over ice.  Garnish with a pineapple flag.