Greased Lighting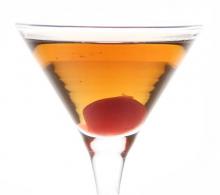 A great twist on a classic martini, the Greased Lightning is a sweet cocktail that is perfect to end the evening with.
Ingredients:
2 oz Gin
Dash of Cherry Brandy
Dash of Dry Vermouth
Preparation:
Mix well in a shaker with ice and pour into a chilled cocktail glass.  Garnish cherry.