Grateful Dead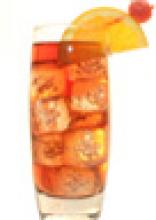 Similar to a Long Island Ice Tea, this cocktail comes with all the warnings of its cousin.  One of these will do they are strong but tasty, too tasty, the raspberry liqueur masks the taste of the spirits and the soda lightens up the cocktail.  Don't say we didn't warn you!  
Ingredients:
1 ½ oz tequila
1 ½ oz vodka
1 ½ oz light rum
1 ½ oz gin
1 ½ raspberry liqueur
Splash of soda
Preparation:
Mix well in a shaker with ice and pour into a Collins glass.  Garnish with orange and cherry enjoy carefully!