Grasshopper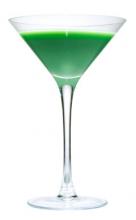 Grasshoppers are a sweet, mint-flavored, after-dinner drink. The name of the drink is derived from its green color, which is provided by the green crème de menthe. The drink reputedly originated at Tujague's, a landmark bar in the French Quarter of New Orleans. It gained popularity during the 1950s and 1960s throughout the American South as a perfect way to top off a heavy meal taking advantages of mint's naturally stomach settling effects. This drink can also easily be made as a frozen drink using ice cream as a base instead of cream. Use Vanilla or Mint ice cream to pull it one way or the other!
Ingredients:
3/4 oz green creme de menthe
3/4 oz white creme de cacao
3/4 oz light cream
Preparation:
In shaker glass with ice pour in crème de menthe, white crème de cacao and cream. Shake well and strain into a chilled cocktail glass.