Grapefruit Ginger Margarita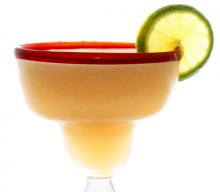 Refreshing and unique, this margarita is amazing.  Just tart enough with a great kick from the high end tequila, use the best you can afford, and ginger liqueur it will kick summer into high gear.  Make sure to use fresh or good grapefruit juice so it doesn't overpower the cocktail.
Ingredients:
2 oz White Tequila
1 oz Ginger Liqueur
1/2 oz Grand Marnier®
4 oz Fresh Grapefruit Juice
Preparation:
Combine all ingredients in a blender with ice.  Blend till frozen then garnish with a lime wheel.