Gingered Whiskey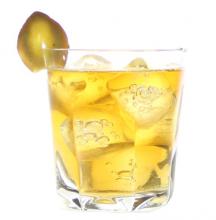 An interesting twist on an old favorite Whiskey and Ginger, the Gingered Whiskey takes it a step further adding ginger liquor to enhance the flavors in the ginger ale.
Ingredients:
2 oz Whiskey
1 oz Ginger Liqueur
Ginger ale
Dash of Blood Orange Bitters
Preparation:
Mix over ice in a rocks glass. Garnish with a slice of fresh ginger.