Georgia Peach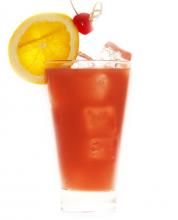 Light and sweet, Georgia Peach is a cool and perfect drink for a brunch or any other party where you want to offer something on the lighter side. This drink will appeal to a lot of people. Perfect for a summer party or social event.
Ingredients:
1 1/2 oz Peach Schnapps
2 oz Orange Juice
2 oz Cranberry
1 maraschino cherry
1 orange wedge
Preparation:
In shaker glass with ice pour in Schnapps, OJ and Cranberry Juice. Shake well and pour into a highball glass. Garnish with an Orange and Cherry.