Fun in the Sun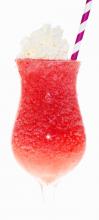 Fun In The Sun - Love this drink! Sweet and fun it hits all the flavor marks for a summer cocktail. We love the Raw Vanilla Liqueur, not the Schnapps, by Dr. McGillicuddy. It brings a great smoothness and rich flavor to the drink. Did we say we love it!
Ingredients:
2 oz Bacardi® White Rum
1 1/2 oz Vanilla Liqueur
1 1/2 oz Coco Lopez
2 oz Pineapple Juice
Juice of 1 Key Lime
1/4 cup Fresh Strawberries, sliced and cleaned
Crushed ice
Preparation:
In a blender put all ingredients in over ice.  Blend well until frozen and serve in a tropical glass with whipped cream.