Frozen Nutty Irishman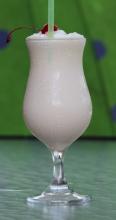 A great cold weather drink, the Nutty Irishman, we think ski lodge good, sitting before a roaring fire with a great book and your feet propped up.  Rich and decadent a perfect guilty pleasure.
Ingredients:
1 oz Bailey's® Irish cream
1 oz Frangelico® Hazelnut Liqueur
2 Scoops Vanilla Ice Cream
1 oz cream
Preparation:
Pour Frangelico®, Bailey's®, ice cream and cream Into a blender. Blend until the consistency of a milk shake.  Top with whipped cream and a cherry.