Frostbite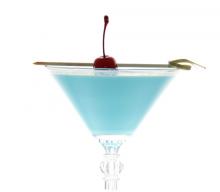 This is a weird looking drink that really is quite tasty. We were pleasantly surprised when we mixed this one up since it sounded so strange but then tasted so good.
Directions:
Ingredients:
2 oz Silver Tequila
1 oz Blue Curacao
1/2 oz White Crème de Cacao
2 oz Half and Half
Preparation:
In shaker pour all ingredients and shake well till cold. This can be served either up in a cocktail glass or over rocks in a chilled highball glass. Garnish with a cherry.