French Toast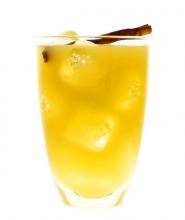 The French Toast is like breakfast in a glass.  Perfect for a brunch or just on its own, this cocktail tastes almost too good so be careful!
Ingredients:
2 oz Vanilla Vodka
1 oz Praline Pecan Liquor or syrup
1 oz Salted Caramel Syrup
3 oz Orange Juice
Preparation:
In a shaker pour all ingredients over ice and shake well.  Pour into a highball glass and garnish with a cinnamon stick.