French 75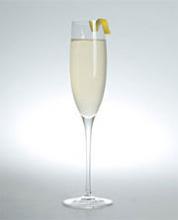 The French 75 was created in 1915 at the New York Bar in Paris---later Harry's New York Bar---by barman Harry MacElhone. The combination was said to have such a kick that it felt like being shelled with the powerful French 75mm field gun, also called a "75 Cocktail", or "Soixante Quinze" in French. The French 75 was popularized in America at the Stork Club in New York. An elegant drink with Gin and Champagne with a great kick its a drink that was enjoyed by the upper class elite both men and women. Shades of Downton Abbey all that is needed is lace gloves or an ascot.
Ingredients:
2 oz Gin
5 oz Champagne
1/2 oz Fresh Lemon Juice
1 tsp of Simple Syrup
Preparation:
With the exception of the Champagne, pour all ingredients into a shaker glass filled with ice.   Shake well.  Strain into a Collins glass filled with ice and top with Champagne.  Garnish with a twist.