Florida Citrus Breeze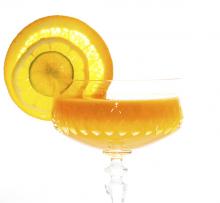 This cocktails is chock full of Citrus.  Makes you feel like you're in the middle of a drink Florida commercial if they had alcohol in them!  All the citrus juices and liqueurs blend well together and it's a great late afternoon or early evening drink.
Ingredients:
2oz Citron Vodka
3/4 oz Citron Patron® Orange Liqueur
1oz Blood Orange Juice
1 oz Tangerine Juice
1 oz Tangerine Juice 1 oz Grapefruit Juice
Preparation:
In a shaker over ice mix all ingredients and then shake till well chilled.  Strain into an up glass and garnish with a key lime, lemon and orange wheel.