Fall Punch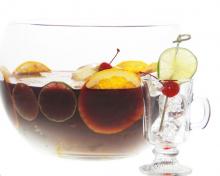 Fall Punch is an excellent version of a Sangria that has been specifically created to compliment the traditional flavors of the fall season.  Great for a party or with dinner this punch packs just enough punch.
Ingredients:
750 l Red wine (a table cabernet)
½ cup Brandy
½ cup Orange Liquor
¼ cup Agave syrup
2 Tbls Scrub, ginger (http://shrubandco.com/shop/)
Preparation:
Mix all ingredients together in a punch bowl.  Add sliced lemons, limes, oranges and maraschino cherries.