Fall in Tennessee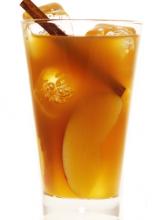 This is the perfect cocktail for Fall.  Amazing and smooth this cocktail hits all the fall notes.  JD Tennessee Honey, apples and cinnamon.  It's like a preview of fall and holiday parties in a glass.
Ingredients:
2 oz Jack Daniels® Tennessee Honey
4 oz Apple Cider
Cinnamon Stick
Apple Slices
Preparation:
In a shaker with ice add Tennessee Honey and cider and shake well. Strain into highball glass over ice and garnish with apple slices and a cinnamon stick. If you want to make a batch - use 3 cups of Jack Daniels® Tennessee Honey and 6 cups of Cider. Place cinnamon sticks in cups with apple slices and then allow them to pour the cider over ice.