Eastern Standard Kitchen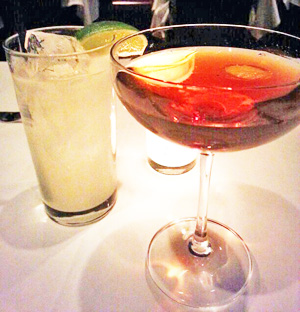 Eastern Standard Kitchen has hearty welcoming food that makes you feel immediately at home, even if you have never eaten anything like it in your own home.  The food is absolutely delicious and prepared with the utmost care.  The dishes are deceivingly simple, while they only contain a few ingredients, they are perfectly balanced and the flavors blend perfectly.  Then come your drinks, heavenly, which are painstakingly crafted at the bar.  With a combination of traditional and original cocktails to delight your senses, there is no way you cannot find something to suit your tastes.  For those who prefer not to take the spirit route, Eastern Standard Kitchen also has a wonderful selection of fine wines and craft beers.  While dining there I enjoyed more than one Narragansett, Near and Dear rye whiskey, vermouth, absinthe, and orange bitters, which was surprisingly smooth with a hint of herbals from the absinthe and the richness you expect from any good rye.  After dinner and drinks you may be tempted to beg off from dessert but this would be a mistake, and this is coming from someone who is not a big fan of dessert in general.  I had the Butterscotch Bread Pudding and it was amazing, I don't even like butterscotch, topped with praline ice cream and salted caramel.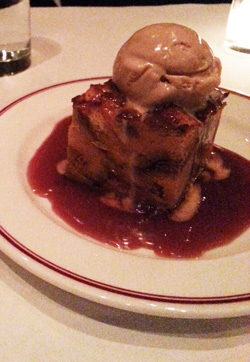 Our waiter convinced us to pair it with a wonderful dessert wine that was just a tad tart to help to offset the sweetness of the dessert and he could not have been more spot on in his recommendation.  Between the amazing food, handcrafted cocktails, and amazingly knowledgeable staff, Eastern Standard Kitchen is a not to miss stop if you are anywhere near the greater Boston area.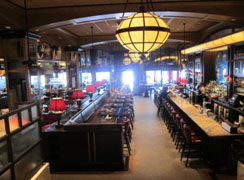 528 Commonwealth Ave
Boston, MA 02215
(617) 532-9100
web site: Eastern Standard Kitchen