Dusty Rose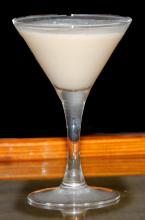 Sweet and girlly with a hit of chocolate covered cherries, this is a great cocktail for people who don't drink much or like to keep it light.
Ingredients:
1 oz Cherry Brandy
1/2 oz White Crème de Cacao
2 oz Heavy Cream
Preparation:
Shake with ice.  Strain into a small cocktail glass.