Di Saronno Punch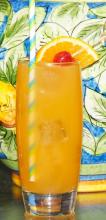 Perfect late summer fall Punch, The Di Saronna Punch goes great with food.  Not too sweet with the bitters and citrus this punch hits all the high notes.
Ingredients:
1 1/2 oz Amaretto di Saronna®
1/4 oz Orange Curacao
2 oz Fresh Orange Juice
2 oz Pineapple Juice
Juice of one medium Lime
Dash of Angostura bitters
Club Soda
Preparation:
Shake all ingredients except Club Soda in a shaker with ice.  Fill a collins glass with ice and strain into glass.  Top with club soda.  Garnish with an orange and cherry flag.