Devils Food Chocolate Martini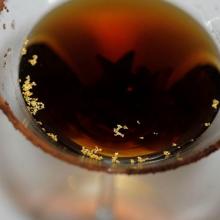 Nothing says the holidays like a little sparkle!  We made a kickin' chocolate martini and added chocolate stars and real editable gold flakes.  (available on Amazon)  This is a fun girly drink and one of the few that when you finish the drink well you have to eat the chocolate stars.  Oh darn!  Holiday cocktails should be fun and that's just what this one is, fun.
Ingredients:
2 oz Chocolate Vodka
1 oz Trader Vic's® Chocolate Liquor
Dash of White Crème de Cocoa
Dash of Vanilla Extract
Chocolate Syrup and Cocoa/Sugar for rim
Editable Gold Flakes
Preparation:
Pour all liquid ingredients into a shaker glass filled with ice.   Shake well.  Rim a cocktail glass by edging the glass in chocolate syrup then rimming with 4 parts sugar to 1 part cocoa mixed together.  Strain into prepared glass with a couple of chocolate stars in the bottom then sprinkle some editable gold and enjoy!