Dessert Healer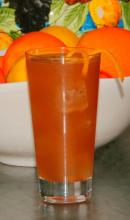 The Dessert Healer will cure what ails ya, great for a late afternoon or early evening cocktail this drink is a nice refreshing twist on a gin and juice.
Ingredients:
1 1/2 oz Gin
1/2 oz Cherry Heering
1 1/2 oz Fresh Orange Juice
4 oz Ginger Ale
Preparation:
Fill a collins glass with ice, pour in all ingredients one at a time ending with the Ginger Ale.  Garnish with an orange twist.