Derby Cocktail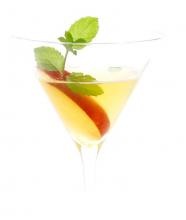 The classic Derby cocktail doesn't have to wait till one Sunday a year.  It's great all summer long.
Ingredients:
2 1/2 oz Gin
1/4 oz Peach Liqueur
1/2 Peach
Fresh Mint
Preparation:
Muddle 3 mint leaves, peach and peach liqueur in a mixing glass.  Add Gin and ice.  Shake well and strain into a chilled cocktail glass.  Garnish with a sprig of mint.