Dark And Stormy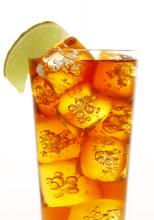 Dark And Stormy gained popularity during the 70's and has enjoyed a resurgance in recent years. Popular down under it is a great drink with a strong kick!
Ingredients:
3 oz Goslings's Black Seal® Rum
1 oz Ginger Beer
Lime slice
Preparation:
Pour Rum into highball glass with ice add Ginger Beer and a squeeze of lime.