Daisy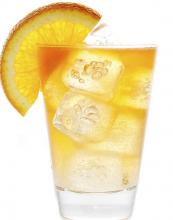 Daisy - Classic cocktail from the turn of the 19th century this cocktail is great for warmer weather.  It's gone through lots of changes over the years but this is a modern take that is quite close to the original.
Ingredients:
3 oz Jack Daniels®
1 oz Fresh Lemon Juice
1tbsp Grenadine
1tsp Simple Syrup
Sparkling Water
Preparation:
In a shaker glass with ice, shake well and pour into a highball glass.  Fill glass with sparkling water and garnish with an orange slice.