Cuchi Cuchi
Old Hollywood Style with New World Flavors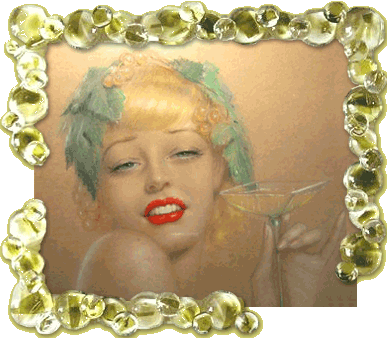 Sitting at the end of a 40ft solid wood bar intimately lit with painted, glass-shaded lamps, I can't help but stare as the lips of the lady beside me kiss the edge of her vintage, French 75 cocktail. Fortunately, she's my date; unmistakably, I've found myself at Cuchi Cuchi this evening. As I take in the classic Hollywood glamour around me, the bartender bedecked in jewels, feathers, and fishnets fashions me a frisky old-fashioned, with just a hint of fruit and a classic maraschino cherry, from behind the glittered-flaked bar.  This describes what you can expect from an evening spent at Cuchi Cuchi.  Glamour, romance, and wonderful handcrafted cocktails that are their expertise. Whether you are looking for a place to take a date, a place to meet up with friends, or just a place to get a bite to eat, look no further.  While the ambiance is certainly romantic, groups will find this establishment equally comfortable with its intimate lighting, cozy surroundings, and perfectly portioned small plates excellent for inspiring conversation.  No matter what your reasons for visiting Cuchi Cuchi neither the staff nor the atmosphere will disappoint.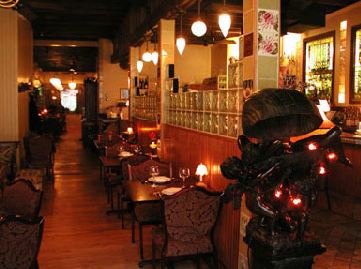 From vintage to groundbreaking their cocktails are absolutely divine.  All of their drinks are made to order with the utmost of care.  When I got a drink that called for crushed ice I was surprised when they actually crushed the ice by hand in a glass with a muddler.  My date enjoyed her French 75 champagne with gin, champagne, fresh lemon juice, and powdered sugar, while I went with an Old Fashioned made with Bulleit Bourbon, bitters, and a real maraschino cherry.  After we had our first round of classic cocktails, we decided to venture to the other side of their menu to sample their original creations.  We had a hard time stopping ourselves once we tried their original cocktails, we had quite a few, and even ended up going back a second night for more.  The ones we tried included, but were not limited to the delicious and refreshing "Beet of My Heart" with Zubrowka organic vodka, ginger brandy, ginger-beet syrup, ginger beer, and lemon. The combination of the ginger and the beet flavors made the drink light and easy to drink without feeling like you were drinking just beet juice or just alcohol.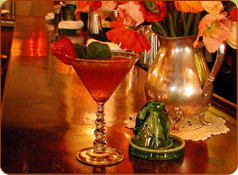 Next was the "Gin Before Breakfast" a mix of muddled kiwi, powdered sugar, gin, elderflower liqueur and lemon juice, with a champagne float. This combination was easily just the right amount of sweetness from the elderflower and sugar offsetting the tartness of the lemon and the dryness of the champagne.  The "Gin Before Breakfast" is perfectly suited to any point during the day, but you wont be able to get it at Cuchi Cuchi until they open at 5:30pm. "Salome's Potion" was another evening favorite with muddled blackberries, basil and Hendricks gin. This straightforward and simple drink is perfect the way it is. Balanced to perfection, you get all of the flavors melding together in harmony, but as smooth as they taste, they are pretty much pure gin and will catch you quite off guard if you have too many.  Finally we have the French Tickler, St. Germain, Bombay, Lillet, lemon, and a cava float. Listed on a tab stuck in the corner, this drink was barely on the menu but it is anything but an afterthought. A fairly new recipe created by one of their expert mixologists, it was quite divine. The St. Germain and Lillet, give this drink a great herbal quality with a unique flavor that is difficult to describe, but not to be missed.  Honestly all of the drinks we sampled were wonderful and if you cannot find something on the menu that suits your tastes, the bar staff will happily make you whatever you want. I provided them with recipe for a new-to-them drink called the Yellow Parrrot, and they made it right away. Their cocktail list is impressive to say the least, with everything from sweet and spicy to pure classics. Generally, I think anyone would be hard pressed not to find at least one drink that sounds irresistible.
Since we were sampling all of these drinks, we definitely needed something to go with them. Naturally, the food at Cuchi Cuchi is just as tempting as their cocktails.  Their small-plate specialties, inspired by flavors from around the world, are perfect for sharing.  After tasting only two of their menu items, we immediately decided that we would be returning before the end of our trip. We particularly enjoyed the savory cornets with tuna tartar and avocado mousse. These petite cones with lightly seasoned fresh tuna and avocado had just the right amount of flavor but allowed the fish to remain the main attraction.  Next up we had the Russian inspired Bliny, a thin pancake filled with mushrooms accompanied by sour cream and salmon caviar.  These were hearty without being heavy and filling enough to leave you satisfied but craving the taste. The refreshing sour cream and the slight crunch of the caviar made the dish come alive.  The Duck a l'Orange Crepes of France paired roasted duck with a fennel and citrus vingarette.  Cooked perfectly and accented well by the dressing, these fresh warm crepes were part of yet another flawless dish. The Fried Artichoke Hearts of Italy, filled with gorgonzola, pistachios, and basil with a lemon, wine, and black olive sauce followed suit.  Honestly, I cannot think of any way to stuff something with cheese, deep fry it, and have it be anything but delicious, but these were exceptional. The gorgonzola made for a rich compliment to the light flavor of the artichoke.   Also we had the Brie en Croute with brie, bacon, onion and garlic jam wrapped in puff pastry served with honeyed walnuts and green apple.  I love brie, and bacon, so really there was no way I could resist ordering this dish. It was rich, but perfectly proportioned; I would have eaten this all night long if I had been allowed.  Finally, we had the Bracioletta Ripiena di Maiale of Italy, grilled pork rolls filled with Pecorino Romano cheese, sauteed garlic, and arugula wrapped in pancetta.  While I will admit these were the most difficult to eat, they were worth it, the cheese and garlic gave the dish a savory quality that was perfectly paired with the slight bitterness of the arugula. The pancetta added a perfect level of saltiness to the overall flavor.  Even if the drinks were average (which was not at all the case!), the food would make Cuchi Cuchi worth a visit.
Whenever I am in Boston, Cuchi Cuchi will be on my list of places to visit even if I only have time for one drink. Although it is highly likely that one will most always turn into two accompanied by just one small plate which will probably be followed by many more.  The ambiance is welcoming and simultaneously private, making for a comfortable place to take that someone special or a group of your best friends.  The drinks and food will make you fall in love with the menu while the staff makes you feel at home. That is, if your home was constantly decked out in old Hollywood glamour.
795 Main St, Cambridge, MA 02139
(617) 864-2929
(617) 864-2929