Crazy Elf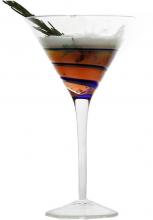 We have to admit that we really have fun making up the names of these drinks!  The Crazy Elf is a wonderful play off the flavors of the Tennessee Honey and sweet and spice notes.  The Rosemary makes this drink.  It also makes a beautiful holiday presentation for your cocktail event.  
Ingredients:
2 oz Jack Daniels® Tennessee Honey
3/4 oz Fresh Lime Juice
1/2 oz Simple Syrup
1 egg white
Fresh Cranberries
Sprig of Rosemary
Preparation:
Pour all ingredients into a shaker glass filled with ice.   Shake well, till foamy, strain into a chilled cocktail glass and garnish with cranberries and a sprig of rosemary.