Cosmopolitan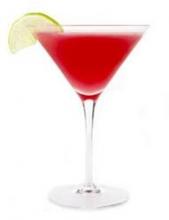 The cosmo or Cosmopolitan was a fixture on the bar scene as early as the mix 80's.  The drink was further popularized among young women by its frequent mention on the television program Sex and the City, where Sarah Jessica Parker's character, Carrie Bradshaw, commonly ordered the drink when out with her girlfriends. The film adaptation made a reference to its popularity when Miranda asks why they stopped drinking them, Carrie replies "because everyone else started." 
Ingredients:
1 1/2 oz citrus vodka
1 oz triple sec
1/2 oz fresh lime juice
1 or 2 dashes cranberry juice, for color
1 lime wedge, for garnish
Preparation:
In a shaker filled with ice pour in all ingredients and shake well.  Strain into a chilled cocktail glass and garnish with a lime wedge.