Cosmalize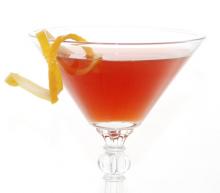 Sweet and very fun, the Cosmalize is a Cosmo with Alize Gold.  Very good and just as deadly!
Ingredients:
1 1/2 oz Alize® Gold Passion
1 oz Citrus Vodka
1 oz Cranberry Juice
1/4 oz Fresh Lemon Juice
Preparation:
Shake all ingredients well over ice is a cocktail shake.  Strain into a chilled cocktail glass and enjoy.