Combat Juice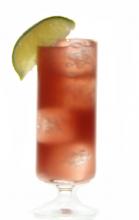 Combat Juice is a great combo of sweet and sour. Word to the wise it goes down easy like a fruit punch.
Ingredients:
2 oz Grape Vodka
1 oz Raspberry Liqueur
1 oz Grapefruit juice
Preparation:
Pour all ingredients in a shaker filled with ice shake well and strain into a highball glass filled with ice.  Garnish with a lime wedge.