Coconut Sangria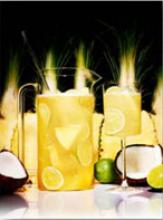 A drink from our friends at Ciroc, the Coconut Sangria is a great summer party drink.  All of the tropical flavors in this drink just scream summer and begs to be enjoyed in the sun near the water.  If you want to make a single serving just divide the amounts by 10.
Ingredients:
10 oz Ciroc Coconut
5 oz White Rum
15 oz Green Tea
10 oz Pineapple Juice
5 oz Fresh Lime Juice
5 oz Simple Syrup
Preparation:
Stir over ice in a  64 oz pitcher, add tropical fruit slices to taste.