Cocktail a la Louisiane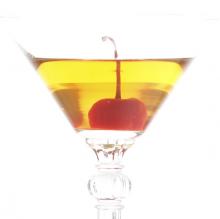 Cocktail A La Louisiane - There is a lot of complexity in this cocktail with the layers of taste coming at you both together and one at a time.  The bitters with the light taste of Absinthe is rich and a little dark.  This gives way to the bite of the Rye then the mellowness of the Benedictine.  Very classic for a great reason!  Lots of taste.  One to pull out to impress.
Ingredients:
3/4 oz Rye Whiskey
3/4 oz Italian Vermouth
3/4 oz Benedictine
3 dashes of Absinthe
3 dashes Peychaud's Bitters
Preparation:
In a shaker glass shake over ice stir all ingredients and stir gently, strain into a 3
oz
cocktail glass with a cherry in the bottom.