Classy Ladies: Cooking Channel!
There are plenty of cooking shows out there. Few actually teach you where your food comes from. Even fewer feature charming wise-cracking hosts in vintage dresses.  Lauren Eggert-Crowe

Alie Ward and Georgia Hardstark are the duo before the camera in The Cooking Channel's "Classy Ladies." On the show, Alie and Georgia, Los Angeles best girl buddies, travel to bee farms, oyster restaurants, butcher shops, chocalatiers, and learn the tricks of the trade from all manner of culinary experts. They then take their lessons back to the studio, where they devise homemade cocktails and appetizers inspired by that day's discoveries.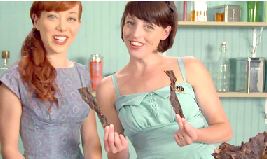 Alie and Georgia are delightful on camera, a pastiche mix of high class retro femininity and millennial snark. Picture Tina Fey and Amy Poehler operating a beef jerky press. It's clear that the pair are genuinely fascinated by the culinary techniques they learn from the various experts they consult in the field, whether it be a British tea host or a beekeeper, but they never let the tone of the show veer too far into earnestness, always bringing back the sass with a tongue-in-cheek self-deprecating jab or an innuendo. The result is a welcoming confection of a show that will make viewers excited about the art of food and beverage, and eager to experiment with their own cocktails. "Don't Try This At Home" are words you'll never hear in Alie and Georgia's studio.
How do you come up with your amazingly crazy ideas for cocktails? I'm thinking your Beefy Tomato, Sesame Bonbon, and Oyster Shooter.

Excellent question. We usually start with a craving and a sense of foolish thrillseeking and go from there. We like to bend the limits on cocktails and approach them from kind of a Willy Wonka perspective: with whimsy and fun and both of us wearing top hats and cravats.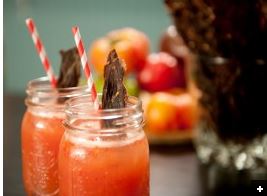 http://www.cookingchanneltv.com/recipes/alie-ward-and-georgia-hardstark/the-beefy-tomato-cocktail.html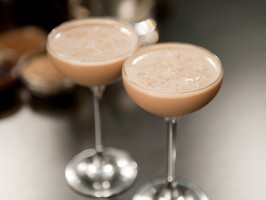 http://www.cookingchanneltv.com/recipes/alie-ward-and-georgia-hardstark/sesame-bonbon.html
Could you tell us a bit about your experiences learning the art of mixology?
We both had stints working in restaurants and behind bars (that came out wrong) -- and had mixed drinks for a living. Later, Georgia was a food blogger and Alie worked as a writer for the LA Times, covering trends and attending events that involved mixology. So with our video for the McNuggetini, we were making a cocktail that was insane and should not have existed just for our own amusement and horror but we also were gently satirizing how uptight the craft cocktail movement was becoming.
What's the most interesting thing you've learned since starting your Classy Ladies TV show?
We have definitely learned to loosen up on camera. We used to make scripted, memorized videos and we just approach things much more organically and casually now. And also, our recipes have become a little more refined and less daredevil: we want there to be a "what the ??" factor but we also want viewers to be excited about making these drinks and serving them at their own cocktail parties. So, more interesting infusions and less barbecue sauce.
How many fancy vintage dresses do you own????
We try to keep count based on the number of episodes we've done for the web and TV and it's probably upwards of 80 each. Georgia's closet is organized by era; Alie's is organized chromatically. Not that we're obsessed.
Do you have a favorite spirit or liquor to mix with?
We'd both probably have to say bourbon, because it's oaky and and smokey and goes well with sweet flavors as well as bright, sour citrus flavors. It's great for both stirred cocktails and shaken ones. And if you don't want to make any more cocktails for your friends, you can advise that they drink it straight and let you keep lounging.
What's in your fridge that we would be surprised to find?
Alie's got several jars of simple syrups on hand: ginger, lavender, Sriracha honey, and Chinese 5-Spice. She also has a baggie of dried ghost peppers, the oil of which is used as a weapon in some countries. Georgia has a jar of her homemade apricot bourbon mustard that she keeps on hand for long days/emergencies.
In your opinion, what's the key to a perfect cocktail?
The best advice we ever got was from our dear friends and ace barman, Dave Kupchinksy from Eveleigh, who one time sat down with us and gave us some great tips and secrets. (We love him.) And he gave us a loose formula we still use: roughly 2 oz spirit, 3/4 oz citrus and 3/4 oz simple syrup (or a liqueur) plus bitters. It's basic and foolproof and we start off a lot of our recipe tinkering with those ratios and tweak from there. Unless we're liquefying an entire slice of pie in a blender. There are no roads for that kind of territory.