Classic Daiquiri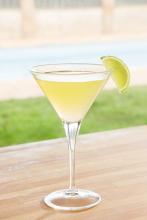 The classic Daiquiri as originally sipped by Hemingway in Cuba.  Elegant and simple this is a easy cocktail to prepare ahead of time and serve to your guests either straight up or if they prefer on the rocks.
Ingredients:
2 oz Bacardi Rum (usually Bacardi Superior)
1 oz Fresh Squeezed lime juice
1/2 oz Simple Syrup
Preparation:
Fill shaker with ice.  Pour in Rum, lime juice and simple syrup.  Shake well until chilled.  Strain into glass that has been rimmed in sugar.  Garnish with lime wedge.