Citrus 75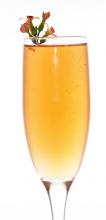 Citrus 75 - A riff on the classic cocktail the French 75, the Citrus 75 updates the taste and mood with the hint of citrus and a float of Gin.  Very refreshing and light.
Ingredients:
1 oz Blood Orange Liqueur
Dash of Blood Orange Bitters
Champagne
Gin
Preparation:
Pour the Blood Orange Liqueur, dash of bitters and top with Champagne in a champagne flute.  Finish with a Gin float on top of the drink.