Ciroc Chic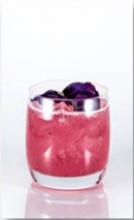 A recipe from our friends at Ciroc, the Ciroc Chic is simple and just a little sweet with just the right amount of punch. For an even classier look try it up in a cocktail glass.
Ingredients:
1 1/2 oz Ciroc Vodka
1 1/2 oz Pomegranate Juice
1 oz Pineapple Juice
Preparation:
Shake over ice in a shaker and strain over ice in a rocks glass, garnish with a pineapple slice.