Cinnamon and Spice Gingerbread Martini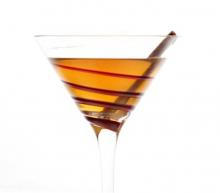 If you like gingerbread you'll like this martini.  It is a fun holiday drink with a comfort food taste.  We used this amazing, albeit expensive, maple syrup.  There are times when using the best of something pays off.  A very different unique cocktail that will be a hit at your holiday bash!
Ingredients:
2 oz Caramel Vodka
1/2 oz Cinnamon Pear Soda
1/2 oz Maple Syrup
3 Ground Cloves
Preparation:
Pour all ingredients into a shaker glass filled with ice.   Shake well.  Strain through a sieve into a chilled cocktail glass.  Garnish with a cinnamon stick.  The Cinnamon Pear Soda we got from Fresh Market.