Chocolate Martini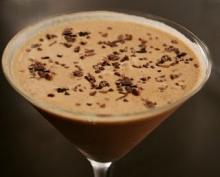 There have been whole blogs books and articles written on the Martini and if it should be shaken or stirred.  Stirring is recommended for all drinks that do not contain fruit juice as it keeps the ice pieces created when shaking from diluting the drink.  Martini people take their gin very seriously.  So let's break it down, Martinis = Gin and Vermouth.  Modern Martinis use dry or white Vermouth.  Now a days a dry Martini is one that has very little Vermouth, the dryer the smaller the portion of Vermouth to Gin, those with more Vermouth are wet.  A dirty Martini is one where the brine from the olive jar is poured into the drink adding a salty taste.  When you move into Vodka Martinis these are not true Martinis but are part of the drinks that are called Martinis or fill in the blank – tinis.  Since we are more interested in what tasted good, a personal choice, we have a variety of Martinis including some that are tini's called that more because of the glass they are served in as opposed to being a classic Martini.  So have yours shaken or stirred, it's up to you!  Just enjoy.  Like all spirit only drinks this is where you want to spend you dollars on the good stuff.  Have a Gin tasting party with everyone bringing different brands and you'll find that the tastes vary wildly.  Have fun and bottoms up.
Ingredients:
21/2 oz Absolut
1/2 oz light Creme de Cacao
1/2 oz Godiva Chocolate Liquor
Preparation:
Into a mixing glass, toss a handful of ice cubes then pour in the Absolute, Crème de Cacao and Godiva Chocolate Liquor.  
Strain and pour into a chilled martini glass rimmed with cocoa.  
Grate dark chocolate over the top and serve