Cherry Limeade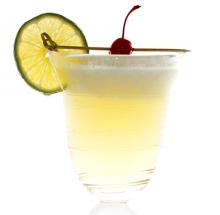 Looking for something cool refreshing and a little different.  Cherry Limeade has both the sweet and the tart!  Fun for summer it mixes well in batches and is great for a hot summer party.
Ingredients:
2 oz White Tequila
1 oz Maraschino Liqueur
1 oz Grand Marnier®
3 oz Fresh Lime Juice
Preparation:
Combine all ingredients in a blender with ice.  Blend till frozen then pour into a tall glass and garnish with a cherry and lime wheel.