Cherry Kiss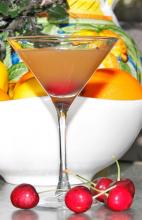 Just a kiss of Maraschino liqueur, the Cherry Kiss is a light fun drink that will give you just a hint of fall with the dusting of nutmeg.
Ingredients:
1 1/2 oz Gin
3/4 oz Maraschino Liqueur
2 oz Pineapple Juice
3 Dashes of Grenadine
Fresh grated Nutmeg for dusting
Preparation:
Pour all ingredients into a shaker glass filled with ice.   Shake well and strain into a chilled cocktail glass.  Garnish with a dusting of nutmeg.