Champagne Tropical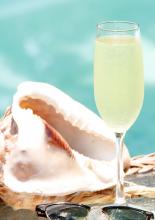 A great drink for a party of any sort, the Champagne Tropical is fruity and light.  Very tropical!  Great for a tropical themed bridal shower, luau or wedding.
Ingredients:
1 1/2 oz Mango Puree*
1 oz Maraschino Liqueur
4 oz Champagne or Sparkling Wine
Preparation:
Mango Puree and Maraschino in the bottom of a champagne flute, pour in champagne.
*Peel and pit 1 ripe mango and cut into pieces. In a food processor purée mango with 1 1/2 tablespoons sugar and 1 teaspoon fresh lemon juice until smooth.  Keeps 3 day in the fridge.