Champagne Pomegranate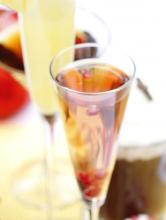 The Champagne Pomegranate Cocktail is a unique blend of Vodka, Champagne and Pama®.  Add in a few Pomegranate seeds for flavor and color and you have a fun cocktail that sparkles.  To keep the proof lower you can leave out the Vodka and it still tastes great and you can drink a few more before you hit your limit!
Ingredients:
2 oz Vodka
1 oz Pama® Liqueur
4 oz Chilled Champagne
Preparation:
Pour all ingredients except champagne into a shaker glass filled with ice.   Shake well strain into a chilled champagne flute where you have added a few pomegranate seeds in the bottom.  Top with champagne and serve.