Champagne Pear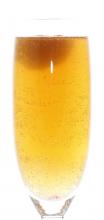 Champagne Pear - While it doesn't taste very strong this cocktails has quite the bite.  The pear taste is so smooth you man not notice the kick!  Enjoy it is the perfect drink for friends and food.
Ingredients:
1 1/2 oz Pear Vodka
1/2 oz Ginger Liqueur
1 1/2 oz Pear Juice
1/2 oz Pom Juice
Champagne
Preparation:
In a mixing glass over ice mix Pear Vodka, Ginger Liqueur, Pear Juice and
Pom
Juice.  Strain into a Champagne flute and fill with Champagne or sparkling wine.  Garnish with a fresh raspberry.